Restaurant Mystery Shopper:
How You Can Get Started
One popular form of secret shopping is the restaurant mystery shopper.  This is one area of mystery shopping were there are plenty of opportunities to earn assignments, no matter how long you've been in the business.  Not only can you do a mystery shop at a favorite restaurant, it can give you an opportunity to visit a place you haven't tried before. 
The majority of the requirements for a restaurant mystery shopper will be to observe customer service, cleanliness of the facility and the quality of the food.  Sometimes there will be a lot of multiple choice questions to answer and some narrative to write about your visit. 
The key for a restaurant mystery shopper is to make sure to follow all the specific requirements carefully.  If the instructions say one person only, you can't bring anyone with you.  Likewise, if the instructions say two people, you won't be able to do the assignment by yourself.  Some requirements say no alcoholic beverages, while others will say no more than one.  Plus, you may be required to order a specific item on the menu.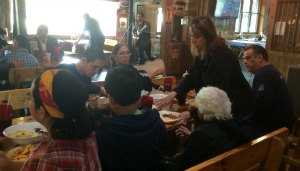 Time requirements are also critical.  Some assignments will give you a range of 5 or 6 days to shop at any time.  Other secret shops have to be performed on a specific day during a two hour period (such as 6pm - 8pm).  The restaurant owner wants a report on how the restaurant performs during the dinner rush.
Quick Service Restaurants (QSR)
Fast food restaurants are many times listed as QSR in mystery shopping assignments.  Many of these assignments go fast after they are posted on mystery shopping company websites.  
Most of the time, you'll be asked to order an item like a sandwich and then wait for a response from the service employee.  That employee is expected to repeat the order and offer a drink or a combo.  It's not enough to ask for "anything else."  They must offer a drink or a combo.  These assignments consist of both drive-through and dine-in establishments.  
In my closer look at fast food quick service restaurants, I'll tell you about some cash awards that you may be required to give to employees.    
Audits are common for fast food restaurants as well.  The mystery shopper may start in secret to see if they receive an upsell.  After they finish the meal, they will ask the manager on duty a few questions and take some digital photos.  The photos will be close ups of exterior and interior shots of the building, menu boards, fountain drink areas, and other specific requirements dictated by the client.  
Steak Houses and Fine Dining
Many steak houses and other fine dining locations want a restaurant mystery shopper to be assigned within a 2 or 3 hour window on a specific date.  Not only do they ask questions about the quality of the food, they want to know details like –
- if the marquee lights are working.

- if all the television sets are on.
- was the music playing.
- were the bathrooms clean.
- the name or description of the waiter and other people that helped you.
You will be required to give the waiter a tip at the end of your visit.  

  The time of services performed is very important for these assignments.  Most of the time, the client wants to know the exact time you place your order and the exact time it was delivered.  For dining room assignments, they want times for delivery of appetizers, desserts and when you received the bill.  At the end of your meal, you pay for the entire meal, plus at least a 15% tip.  All assignments figure in a tip when they give you the maximum reimbursement for the mystery shop.  
Restrictions on Number of Visits
Many restaurant assignments will have restrictions on how often you can visit them.  Once you complete a successful report, you may not do another assignment at that same location for an extended period of time.  I've seen restrictions for 90 days, 180 days, and up to an entire year for a restaurant mystery shopper.  That doesn't mean you can't visit that location on your own.  You just won't be able to do another assignment with that mystery shopping company during that time.  
You may be required to order a specific item on the menu.  Fast food restaurants have been known to do that when promoting a new menu item.  Or, there may be an item you're not allowed to order.  A seafood restaurant may require you not to order a steak without ordering a seafood item.  
How Much Can a Restaurant Mystery Shopper Make?
Payment for a restaurant mystery shopper will vary greatly from one place to another.  A fast food restaurant will reimburse a set amount for food, plus give you between $5 and $10 for the assignment.  If the shopper has to award money to anyone, they will be reimbursed for that as well.  
Many companies will reimburse you up to the maximum limit only.  If your limit is $50 for a steak house and your bill is $48 (including tax and tip), you'll receive $48.  If your bill is more than $50, you'll only be reimbursed $50.  Some mystery shopping companies will add $5 or $10 extra or more for submitting a successful report.  Reimbursement for the fine dining locations, which includes valet parking, can be $200 or more.  
There is one important item to remember before you leave any restaurant.  You have to keep the receipt!  You will be required to upload a copy of it or FAX it to the mystery shopping company.  You may not get paid for your efforts without a receipt.  
Read this government report about the legality of mystery shopping.
For a complete guide to the mystery shopping business and a list of over 200 mystery shopping companies worldwide, you can pick up a copy of my book (or eBook) on the business titled "Take That Job and Mystery Shop It!"