Contact Me

Please contact me if you have any questions about the contents of this website.  I hope I'm giving you a lot of useful information about the mystery shopping business.  Mystery shoppers are needed throughout the world for market research and to evaluate businesses.  Business owners and managers use the reports from mystery shoppers to improve what they do and stay ahead of their competition.
Other assignments are for code compliance.  The main objective for a mystery shopper is to see if employees are following proper procedure on the job.  One assignment is to sit at a bar and pay cash for their purchases.  The main objective for the shopper is to watch the bartenders and the cash drawer.  Owners and managers also want to know if any free drinks may be served. 

Another area mystery shoppers are used is for audits.  I've done many retail office stores to see if 20 different printers are on display.  Or if the proper signage is posted around ink cartridges.  There are other assignments like parking near an entrance to a department store and count the number of people entering the place.  These assignments are usually four hour shifts and are paid by the hour.  
Mystery shopping is not a difficult business to start up.  It has many benefits to it.  You may apply for a restaurant assignment that you've never been to, but always wanted to try.  You can get reimbursed for anything you spend and receive an extra fee if you submit a report on time. 
If you have a lot of family events happening during a week, you can always not schedule yourself to do any assignments.  It's not like a second job where you have to show up no matter what.  I don't remember missing any sporting events my kids had when they were in school. 
Read this government report about the legality of mystery shopping.
How to contact me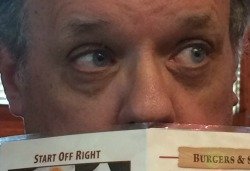 I encourage you to contact me with your questions and comments. The best way to do that is to fill out the form below.  I will answer questions right away and I always like to hear your comments.  If you leave a phone number, I will return phone calls and help you as much as I can. 
You can also read my book (and eBook) titled "Take That Job And Mystery Shop It!"  It will take you step-by-step on how to start the mystery shopping business.  I include a list of mystery shopping companies and I point out the ones that I enjoy working with.
Learn more about Video Mystery Shopping.