My Story
Hello, I'm Mystery Don and this is my story.  I'm an active mystery shopper for both written and hidden video assignments.  I do this business on a part-time basis and whenever I have spare time. 
I created this site to help you get a better understanding about the mystery shopping business.  It has benefited me over the years and I believe it can help you now.
I've been a mystery shopper since 2006.  I've done over 2000 mystery shopping assignments.  Most were written assignments, phone calls, and audits.  More than 600 of those assignments were with a hidden camera.  Those are the type of assignments I usually do now. 
I've worked with over 50 different companies and received several certificates along the way.  I've gone to some conventions for mystery shoppers and talked to many people who run mystery shopping companies.  I receive requests all the time from many companies to do assignments -- especially when they need something done quickly.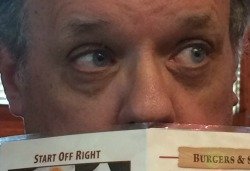 I began the mystery shopping business when my wife and I were having trouble paying our bills.  We were putting three kids through private school and college at the time.  We both worked full time jobs and we accumulated a lot of debt in the early years.  We found ourselves in financial turmoil when the United States economy went through a deep recession.  We needed some extra income right away.     
Is mystery shopping legal?  Read more about it here.
Since I had more flexibility with my time, I did the majority of the mystery shopping.  I found that I could do some assignments after I got off work in the early afternoon until I had to pick up my kids from school.  I would do quick service restaurants, retail stores, apartments, auto dealerships, car washes, oil changes, dental appointments, and grocery store visits.  If I had more time, I would visit new home builders.   

The best part about mystery shopping was that I didn't have to spend a lot of money to get started. There was no franchise fee to pay and I didn't have to pay mystery shopping companies anything to join them.  They pay you when you complete assignments for them.
Watch out for the scam artists that like to send potential mystery shoppers fake checks.
Mystery shopping gave me total control over what assignments I wanted to apply for and how often I wanted to do them.   If I knew one of my kids had a sports activity, I wouldn't schedule a mystery shop assignment for that day.  My goal was to not spend too much time away from my family to make extra income.
I wasn't interested in a second job.  That would have meant a lot of time away from my family.  Plus, I wasn't looking to become a millionaire either.  There was too much hype with thousands of business opportunities that guarantee people earning $10,000 a day with little or no work.  It seemed totally unreasonable to attain.  It's still true today.   
I was looking for something I could do in my spare time to make some extra money and keep my family life.  Period.

After a few months, I was able to keep pace with our finances.  My income increased more when I received assignments using a hidden camera and microphone.  These kind of assignments paid more money and there wasn't as much narrative to write.  I passed some online training tests on how to use the equipment that allowed mystery shopping companies to send equipment to me with a return shipping slip.  Once I completed all of my assignments, I would ship the equipment (and the video) back.   

I enjoyed it so much that I eventually purchased my own video equipment.  Currently, there are only a handful of mystery shopping companies that ship video equipment any more.  Most have stopped the practice.

Video mystery shopping is growing in the industry.
Mystery Shopping and Network Marketing

Before I started mystery shopping, I worked with several different network marketing companies.  I actually did network marketing and mystery shopping at the same time for several years.  I struggled with network marketing for seven years before I found a system that worked for me and I was making some good money. 
Then, the company I represented was raided by state and federal governments.  They were shut down for good.  I was in shock.  I struggled with this company for seven years because I believed in them.  The owner would send messages to his representatives all the time with quotes from Abraham Lincoln to the Bible.  I met him a couple of times and I thought his speeches were inspiring and not overhyped.    
After a few appeals were lost, I was done with network marketing for good.  I felt I would not be able to trust another company every again.
Today, my kids are all graduated from college and my financial picture is much better.  I still enjoy mystery shopping although not so much for the money.  I think it's an important contribution to business owners who want their employees evaluated from a customer's point of view.  I write in my reports whether an upsell was offered or if I had to wait 10 minutes to be seated at a restaurant.  The focus of mystery shopping is to train people to do their job better and not catch them doing something wrong.  Employees have been known to get small awards for good mystery shopping reports. 
I've done thousands of mystery shops over the years and I still enjoy it.  It's something I plan to do in my spare time after I retire.  
I hope you take the time to look at the information on my website.  See if mystery shopping is something you would like to do.  You can read my book (and eBook) called "Take This Job And Mystery Shop It!" to learn more about the business.