Mystery Shops at Amusement Parks
Mystery shops at amusements parks can be a lot of fun for people during the seasons that they are open.  You can do these assignmens by yourself or bring family and friends along to enjoy the day.  Most assignments have a lot of requirements attached and can be exhausting by the end of the day.    
 Most of these assignments are scheduled for the Summertime when amusement parks are most active.  That doesn't mean that the other seasons don't have assignments.  Mystery shopping companies that work with amusement parks also have assignments at zoos, flea markets and other venues.  They even have visits with Santa Claus during the Christmas season. 
Mystery shops at amusement parks are not big moneymakers for mystery shoppers.  The payment you receive will be reimbursement of money spent on admission, parking, food and rides.  For example, you can get paid $100 for an assignment, but the out-of-pocket expense at the park could total $60 or $70 or more.  You would be fortunate to earn a $30 profit from your assignment.  The reimbursement does not increase when you bring more people with you.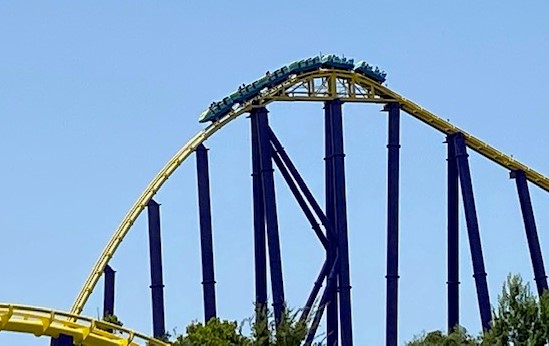 You could end up paying more than the reimbursement.  That happens with restaurant assignments all the time.  The goal here is to entertain the family and to be reimbursed a big chunk of the money you spend.     
Mystery shopping companies may add bonus money to get the assignments done.  Bonuses are common in the mystery shopping business, especially at the end of the month.  That's when mystery shopping companies are under pressure to get assignments done.  I've seen bonuses of $20 or $30 or more for assignments at amusement parks. 
Requirements for Mystery Shops at Amusement Parks
There are a lot of requirements for mystery shops at amusement parks that you must do in order to submit a successful report.  You'll need to evaluate services at ticket booths, ticket takers, ride services, photo vendors, gift shops, main exhibits, guest services and other locations.  You'll also look for cleanliness at the park, including the restrooms.   
Most instructions require you to stay at the park between 4-6 hours.  You'll probably need that much time to gather all the information you need for your report.  When you get home, you'll need to spend a couple of hours filling out the questionnaire and submitting it to the mystery shopping company.  These reports may require some lengthy narratives.   
Most of these assignments may have restrictions on days to perform them.  Generally, time of arrival won't matter too much as long as you can stay at the park for the time you're required to be there.  The deadline to submit the report is usually between 12 and 24 hours. 

The use of a smartphone is common for these assignments.  Not only are they great for taking pictures, but you can also record voice memos and keep notes stored so they're fresh in your mind when you write your report.  You may have to collect receipts of everything you purchase and upload them as well.   

Learn more about the legality of mystery shopping.
Bring Family to the Park
Assignments at amusement parks can be great for you and a close friend.  However, they may be difficult for a single parent watching over young children.  The number one priority is your children.  It's more difficult to focus on both your children and all the details you need to submit a successful report.   
Sometimes, amusement parks can be difficult for mystery shopping companies to fill.  They may have to look outside the city for someone to do the assignment.  If that comes up, the mystery shopping company may offer bonus money for travel.  If an overnight stay is involved, more money may be offered for meals and lodging.     

So, if you're looking to have some fun at an amusement park and don't mind gathering information and completing a detailed report afterward, this can be a fun day for you and a friend or relative.  Just remember the time commitment required both at the park and to fill out the report. 

The mystery shopping business is always looking for new faces to visit different places.  Learn how you can start your own mystery shopping business from my book, "Take That Job And Mystery Shop It!."  I also list close to 200 mystery shopping companies that you can click on their website and fill out an application.  There's information about each company and I indicate which ones I've worked with.     

Mystery Shops At Amusement Parks