Hotel Mystery Shoppers Take
Notes While On Vacation
Hotel mystery shoppers have some of the best assignments around the world.  They check into a hotel, order food, and take lots of notes.  Imagine getting reimbursed for spending time like that on vacation.
There are a lot of requests for hotel mystery shoppers from social media groups, forums, and emails (the ones at your request from mystery shopping companies) that anyone can apply for.  Assignments can vary from staying several nights in a hotel to a 45-minute visit to evaluate the parking valet service.  These assignments are also referred to as hospitality visits.  

Mystery shopping companies are always looking for new people to apply for these assignments.  Some assignments are to evaluate high-class, hoity-toity hotels.  Others allow mystery shoppers to bring their families.

The hotel management want to know what you experience the moment you arrive to the hotel to the moment you check out.  As a shopper, you have to write down a lot of observations and enter that information in your final report that you send to the mystery shopping company.  The mystery shopping company will finalize the report before sending it to the client.

Many assignments will have specific dates that you have to check in by.  Others will be within a time frame of a month to complete the assignment.  Many hotels prefer that you don't request a Friday or Saturday visit.  Those are the busiest days of the week.  

Requirements for Hotel Mystery Shoppers
Hotel mystery shoppers must be extremely observant and make sure they answer all the questions a client asks for.  Once you're assigned to visit a hotel, you'll be given written instructions on the specific requirements.  Some questions may sound petty, but they are important for hotel management.  
Here are some questions that you may see on the questionnaire: 
- Was the exterior landscaping presentable?
- What was written on the outdoor marquee?- Did anyone greet you when you entered the hotel lobby?- Talk about the cleanliness of the hotel lobby, hallways, rooms, restaurant, etc.
- How long did it take for room service to arrive?
- Did you see anyone not wearing a name tag?
This is just a small sample of what to expect.  
You may also be required to find a problem with the room and call the front desk for service.  This can be something like needing extra towels or unplugging your television set and wondering why it doesn't work.  This is to find out how fast someone will respond to your call.    
Money For Hotel Mystery Shoppers
Hotel mystery shoppers don't normally make a lot of money on their assignments.  They spend their own money and receive a reimbursement for most (if not all) after they submit their report.  The mystery shopping company may have a limit on what they will reimburse.  Payment for the work a mystery shopper can take anywhere from a couple weeks to 60 days or more after the report was submitted.   
Hotel mystery shoppers may be asked what their income is during the application process.  The mystery shopping company wants to make sure you won't have a problem getting a room.  The last thing anyone wants is a situation where all of your credit cards are denied and you can't get a room.  You would not be able to complete the mystery shop and you would not be reimbursed for your expenses..  
Once you've completed a few assignments, you can ask for travel reimbursement.  This can include flights that you may have to take to complete the shop.   
Hotel mystery shoppers received some positive publicity on August 19, 2014, when ABC World News did a story on the hospitality industry.  Sensors Quality Management Inc., a mystery shopping company headquartered in Toronto, Canada, was featured in the story.  The report claimed that some vacationers did more than 100 mystery shops per year and saved on $5000 worth of expenses they make annually.  

Valet Parking
The valet parking assignments involve driving up to the hotel and allowing the person at the valet service park your car.  You'll have to write about the interaction you had with the attendant and a clerk that accepts payment.   You'll have to remember names and what was said during your interaction.  You stay at the hotel for half an hour.  (Walk around or buy a drink at your own expense.)  You may have to take some pictures of the ticket and a receipt you received.  You go back to the valet attendant and ask for your car.  You must give the attendant a tip before you leave.  You'll be reimbursed for the items you paid and receive a shop fee of $10 or more.  

I stress the importance of turning in complete reports and meeting deadlines.  If your report is incomplete, late, or missing a lot of details, you will NOT be paid or reimbursed for the assignment.  The mystery shopping company who assigned the project to you would be embarrassed to send the report to the client.  They won't do it.
Not only does the mystery shopper lose out on the money, they may be banned from doing any more assignments with that company.  Mystery shopping is a legitimate business that wants people who are serious about each assignment.
When you're assigned a mystery shop, you'll be given an online questionnaire that you will use to submit your report.  Make sure to study it before you do the assignment.  Print it if you have to.  (Questions like what was listed on a marquee is pretty tough to answer if you didn't look at it.)  Take it with you to take notes, but don't leave it in plain sight for an employee to view.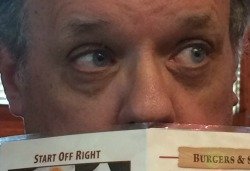 I wrote an book about my mystery shopping experiences for both written and hidden video assignments.  I include a list of mystery shopping companies that I have worked with and companies that I would consider reputable.  The paperback (or eBook) is titled Take That Job And Mystery Shop It!​ 

There should be no fee to join a mystery shopping company.  If there is, even if it's $2, stay away from them.  Mystery shopping companies should pay you after you complete assignments for them.  
Do not cash any checks before you do any mystery shopping assignment.  There is a popular scam where people are sent checks for as much as $5000 to perform mystery shops at check cashing locations.  These checks are fake.  If you cash them, you will have to repay the bank and all associated fees.  

Read more about mystery shopping scams.